We all dream of having a beautiful and glowing skin, especially the girls, but how many of us achieve so? Well, only a few. Having good skin and maintaining it is not everyone's cup of tea. You need to have a proper skincare routine, develop healthy habits, wash your face, and do more to make it look glowing.
But these days lack of sleep, unhealthy habits, sedentary lifestyle are things that restrict you from having good skin. Acne, blackheads, and oily skin are common problems faced by people.
Even teenagers are not spared. The hormonal changes that happen in their body lead to the enlargement of the oil glands and make their skin oily. It also creates large pores and blackheads.
Even after all of this, we've solutions!
Here we have compiled up some of the best skincare tips for girls that you can try on. These tips will help you to have a glowing and radiating skin without the need of using expensive cosmetic items to make your skin look flawless. So, let's take a look.
Cleanse your Skin Properly
If you have oily skin, you can do foaming or use a gel cleanser regularly. You can cleanse your face once or twice a day if your skin feels very oily or dirty. If you wear makeup, then it you must remove your eye makeup first, cleanse with your hands, and then use a gel or a cleanser.
If you are a sportsperson, you might observe too much dirt on your face, so you must cleanse your face after you play.
You can also carry facial tissues to clean your face and remove the dirt. For people who have dry skin, they can use a milky cleanser or moisturizer to maintain the pH balance. 
Also Read: 5 Ways Co-living Has Redefined 'A Home Away from Home'
Remove Makeup before bed
It's never a great idea to sleep with makeup on your face, no matter how beautiful you look in it. While sleeping, you need to allow your face to breathe, so removing the makeup is necessary.
However, if you are too tired to tie your hair back or remove the makeup properly and wash your face, you can use a pre-moistened cleansing wipe to remove the makeup, dirt, and oil from your face.
If you have a habit of sleeping with makeup on your face regularly, you can develop acne or rashes on your face. So, avoid it!
Exfoliate your skin
You need to exfoliate your skin once or twice a week by using a gentle product. Do not scrub it, as scrubbing doesn't help with blackheads or acne. Also, it is recommended to not over exfoliate.
Control Oil
You need to control the oil in your skin and keep the shine down without being too hard on it. For this, you can use a salicylic acid cleanser or oil free primer to control the oiliness on your face. You can also use specialized clothes or tissues to blot the oil during the day. 
Also Read: How To Make Your Hair Grow Faster Naturally?
Avoid Pollution
If you want to care for your skin, avoid going out in polluted areas. Pollution, dirt and dust leaves a terrible impact on your skin, making it dull, ugly, and allergic.
It may also lead to faster aging and development of wrinkles. So, try to avoid pollution to your best or cover your face with a scarf when you are out in a polluted area.
Use Sunscreen
If you want your skin to look healthy and glowing, you need to protect it from the harmful UV rays of the sun. Wearing sunscreen with SPF 40+ can help you with this. It also helps to keep your acne breakouts from turning dark.
You can choose oil-free sunscreens or cosmetic products like liquid foundation and face powder that includes sunscreen. These days lipstick products also have sunscreen in them to protect your lips from UV rays.
Avoid Sharing Makeup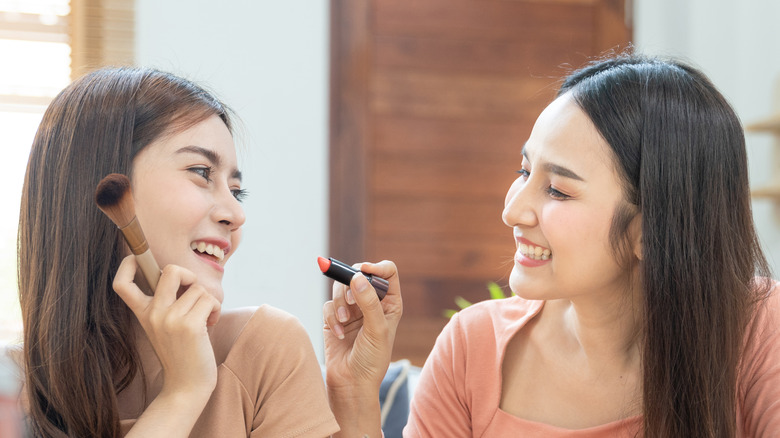 Sharing makeup not only means sharing beauty, but germs as well. It is a bad idea to use your friend's or anyone else's makeup products like lipsticks, eyeliner, eyeshadow, or face powder. No matter how tempting you feel seeing other girl's makeup, stick to yours. 
Wrapping Up
We hope you liked the above skincare tips. Don't forget to try them on to bring a change to your skincare regime. These tips are very simple and you can easily incorporate them in your everyday lives. So, make your way to having a glowing skin and keep it super happy!
Posts That You May Like: